Airplane Registration Lookup
Version 2.16
Release date 2023-05-24
This is a (relatively) simple PowerShell demo script to lookup aircraft data by entering its registration number.
The script uses Airport-data.com's API to provide a photograph of the airplane, and a link to more data.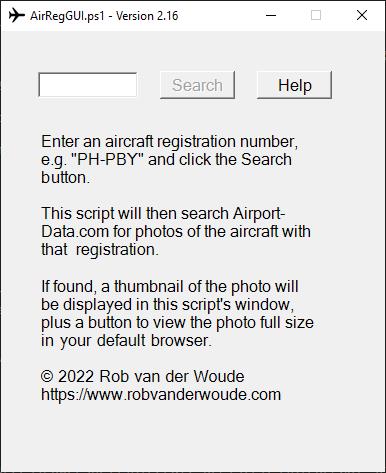 Enter a registration number in the input field, e.g. N1944S, and click the "Search" button to search for its data.
Note that dashes are critical, depending on the country of registration, e.g. N1944S, OK-NUL and PH-PBB will work, but N-1944S, OKNUL and PHPBB won't.
If a match is found on Airport-data.com, a thumbnail of the first matching photo will be shown in the GUI, and a button "View photo on Airport-data.com".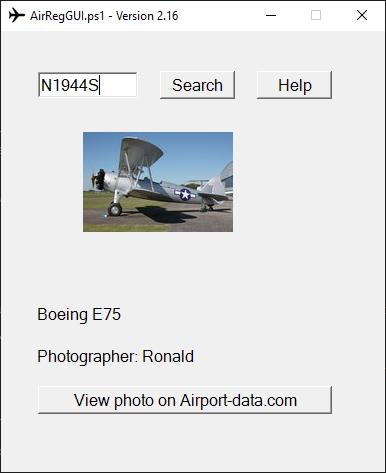 Click the button "View photo on Airport-data.com" to view more photographs and registration data on Airport-data.com's website.
Note that the author of this script is in no way associated with Airport-data.com.
If, on the other hand, no match was found on Airport-data.com, and an extension script for that registration was installed, AirRegGUI.ps1 will use the extension to search either an online or a downloaded aircraft registry database.
If the extension for the prefix isn't installed, or if no match is found, AirRegGUI.ps1 will look for the OpenSky Network extension, and if available use that to try and find the aircraft.
Note that this may add another minute to the search!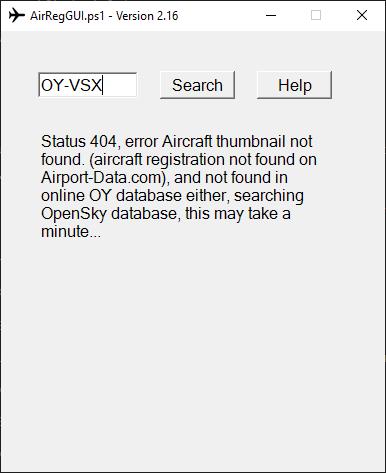 If a match is found in the online or local database, the aircraft's manufacturer and model will be shown in the GUI, and a button "Search on Google".
An alternative search engine can be specified on the command line with the optional -SearchEngine switch.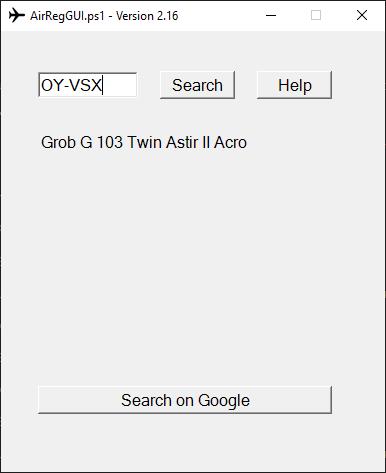 Click the "Help" button or press the F1 key for help.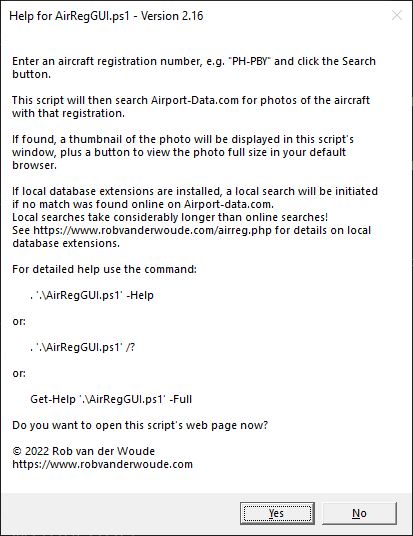 Click "Yes" to open this web page, or "No" to return to the main screen.
Run this script with the /? or -Help command line switch for help on command line arguments, or in PowerShell Get-Help './AirRegGUI.ps1' -Full.
Extensions
As of version 2.10, AirRegGUI.ps1 can be extended with local and online database lookup scripts.
These extension scripts should be located in AirRegGUI.ps1's parent folder.
The naming convention for these extension scripts is AirRegXXCmd.ps1, where XX is the prefix of the aircraft registrations, e.g. PH for the Netherlands, N for the US, TF for Iceland, etc.
If working with local database files, these will be stored in a subdirectory XX.
Besides "national" extensions, the AirRegOpenSkyCmd.ps1 extension can be used as a last resort, to search for an aircraft with any prefix. This will add about a minute to the total search time.
So when extensions are installed for the US (N), Ireland (EI), Iceland (TF) and OpenSky (all prefixes), the directory tree would look like this:
  AirRegGUI.ps1
  AirReg

EI

Cmd.ps1
  AirReg

N

Cmd.ps1
  AirReg

OpenSky

Cmd.ps1
  AirReg

TF

Cmd.ps1
  

EI\
     30-september-2023.xlsx


  

N\
     ACFTREF.txt
     MASTER.txt


  

OpenSkyNetwork\
     aircraft-database-complete-2023-10.csv
Note the absence of a subdirectory TF.
This subdirectory is not required because AirRegTFCmd.ps1 uses an online database.
All extension scripts available will be included in AirRegGUI's download ZIP file.
You will need to download the local database files yourself, links are provided here.
If you see an extension script mentioned here that you do not have yet, redownload AirRegGUI.
Make sure to update the downloaded databases every now and then, to keep the registrations up-to-date.
Notes:
1
AirRegPRCmd.ps1 .. AirRegPUCmd.ps1 are almost identical helper scripts, required because Brasil uses multiple prefixes.
2
Reading Excel files requires Excel.
Reading PDF files requires GhostScript.
Credits
API courtesy of Airport-data.com
Downloadable and online databases courtesy of national aircraft registry agencies
Downloadable OpenSky Network database courtesy of OpenSky Network
Created in Visual Studio Community 2019 with a trial version of Ironman Software's PowerShell Pro Tools Suite
Hide console window by Anthony on StackOverflow.com
Capturing Enter key (as a work-around for the form's AcceptButton not working as expected) by sodawillow on StackOverflow.com
Use of Shown event (to make sure the GUI is visible before starting an optional immediate search) by Matthias Schippling on StackOverflow.com
Embedded icon based on code by Theo on StackOverflow.com
Airplane icon image courtesy of Icons8.com
Lithuanian characters were "translated" to HTML-entities with the help of usefulwebtool.com
Change History
Version
Release Date
(yyyy-mm-dd)
Changes
2.16
2023-05-24

Fixed: error message for invalid -SearchEngine parameter.

2.15
2022-10-05

When a match is found on Airport-Data.com, the aircraft type will be shown besides a thumbnail and the photographer's name.

2.14
2020-07-04

Added an airplane icon, embedded in the script as well as stand-alone to use for shortcuts.

2.13
2020-05-16

Corrected an error in the help text displayed when clicking the Help button or pressing the F1 key.

2.12
2020-05-15

Added the option to search a downloaded OpenSky Network aircraft database, if AirRegOpenSkyCmd.ps1 is installed
Removed redundant "legacy" help text block, all help text now is "comment based help", i.e. it can be viewed using PowerShell's Get-Help cmdlet.

2.11
2020-05-10

Some minor bug-fixes
Some minor modifications in the help text

2.10
2020-05-08

Can now be extended with local and online search extensions, that will be used if no match is found on Airport-data.com
New -SearchEngine parameter to choose an alternative search engine in case no match is found on Airport-data.com
New -Debug switch to allow debugging this script as well as its extension scripts
Improved help text, with either /? or -Help switch
Improved command line handling

2.01
2020-05-01

Optional command line switch -Hide or /Hide to hide the console
Improved command line help text
Improved command line handling

2.00
2020-04-30

Optional command line input
Textbox input in GUI
Results presented in GUI and optionally in default browser

1.00
2020-04-22
Initial "proof of concept" version



Command line input
Results presented in GUI and optionally in default browser




---




As of version 2.00

AirRegGUI

.ps1

(PowerShell)

replaces

AirReg

.hta

(VBScript/HTA).

The latter is still available

but no longer maintained.




---
Checksums:
File name:
airreg.zip
MD5:
0­d­7­6­7­2­0­2­d­c­9­b­1­f­d­9­7­a­6­1­5­6­7­c­0­1­c­5­9­0­2­3­
SHA1:
a­6­1­1­9­3­a­8­a­7­5­3­1­f­3­4­9­f­e­c­c­7­b­1­5­3­b­a­4­0­3­3­3­c­0­f­4­c­1­d­