A Fast CF Card Reader
For a while I have been the owner of a All-In-One USB 2.0/eSATA dual 2.5/3.5 inch harddisk docking station.
This piece of equipment worked miracles when I replaced my laptops' harddisks: no reinstall required, just press the button and copy the original disk's partitions to the new harddisk.

As a docking station, it comes with both USB 2.0 and eSATA connections; if I were to buy one today, I would probably opt for the USB 3 model.
Anyway, by adding a low cost Compact Flash to SATA converter I can now use the docking station as a fast USB/eSATA CF card reader.

By adding a low cost SATA to USB 3 adapter cable I can now also connect my Compact Flash cards (and harddisks, of course) to USB 3 ports; but then the question remains if this "pile" of hardware is better than a standard USB 3 CF card reader...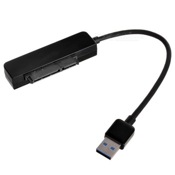 page last modified: 2020-09-28