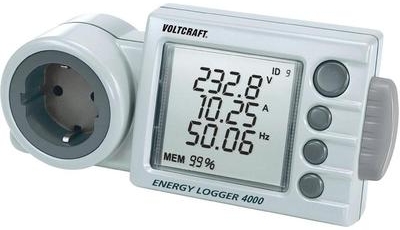 Conrad's VoltCraft Energy Logger 3500 is a great device to measure and log electric power consumption.
However, the device's manual setup is... well... not too pleasing.
I knew the device could also be configured with a setup file on the SD card, and after some internet searching I found this page with info on the setup file format.
I also found some links to software to create a setup file, and more software to read the device's data, but unfortunately none of these worked on my Windows 7 system.
So for a start I wrote my own command line setup file creator in C#: EnergyLoggerConfig.exe.


EnergyLoggerConfig.exe,  Version 1.00
Create a binary configuration file for the VoltCraft Energy Logger 3500 or 4000

Usage:    

EnergyLoggerConfig /dt:daytimetariff /nt:nighttimetariff [ options ]



Where:    

daytimetariff

      is the day time tariff for 1 kWh
          

nighttimetariff

    is the night time tariff for 1 kWh

Options:  

/ID:deviceID

       set device ID (0..9; default: 1)
          

/12H

               use 12 hour clock (default: 24 hour clock)
          

/MDY

               use date format M/D/Y (default: D-M-Y)
          

/F:minutes

         set time to specified number of minutes in future
                             to allow sufficient time to load the SD card into
                             the device (0..60; default: 1 minute)
          

/C:currency

        set currency: 

G

 = GB Pound, 

S

 = Swiss Frank,
                             

U

 = US Dollar, 

E

 = Euro (default: Euro)

The settings will be written to a binary file named "setupel3.bin", located in
the current directory. It should be written to SD card and loaded into the
device in the specified number of minutes (/F switch) for optimal accuracy of
cost calculations. Once loaded, the device will erase the file from the SD card.
Detailed information on the setupel3.bin file format can be found at


http://wiki.td-er.nl/index.php?title=Energy_Logger_3500



Written by Rob van der Woude
http://www.robvanderwoude.com


The command line tool works fine, but I figured a GUI might make it much more intuitive.
Besides, by using dropdown lists for the choices, validation of those choices is no longer necessary.
Behold EnergyLoggerConfigGUI.exe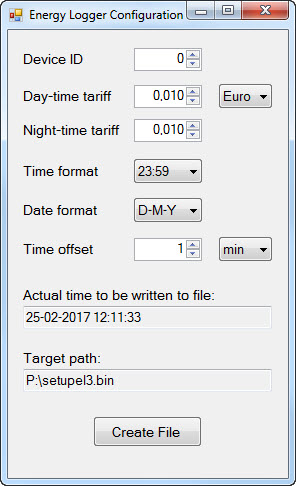 Press F1 for help: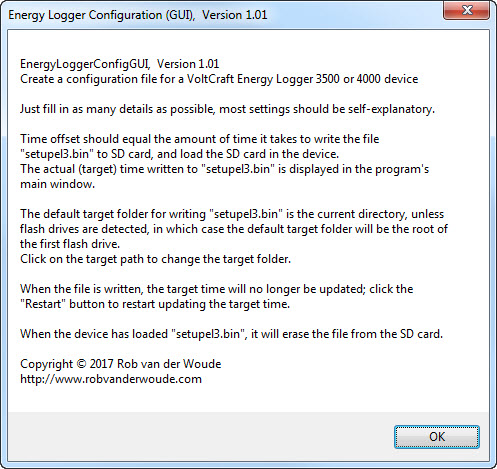 The command line and GUI versions are both included in the ZIP file.