Calendar Demo
Version 1.01
This HTA demonstrates the use of Microsoft's Calendar HTML Component.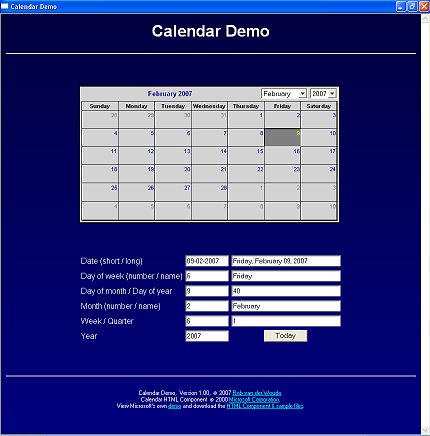 Pick a date in the Calendar Control, and each of the selected date's components will be displayed in the fields below the Calendar Control.
Click the "Today" button to return to today's date.
Change History
Version
Release Date
(mm/dd/yyyy)
Changes
1.01
11/24/2008
Corrected relocated links.
1.00
02/09/2007
First public release.
Checksums:
File name:
MD5:
SHA1:

caldemo.zip
07e6c07a8051ed1ad6f12cf03c0797f4
76e750f643c3b92e3a0bd11dd08d7aa60ae39ada
page last modified: 2016-09-19