Use this HTA to get a basic software inventory of any WMI enabled computer on the network.
Note: The software listed is limited to software installed with the Windows Installer.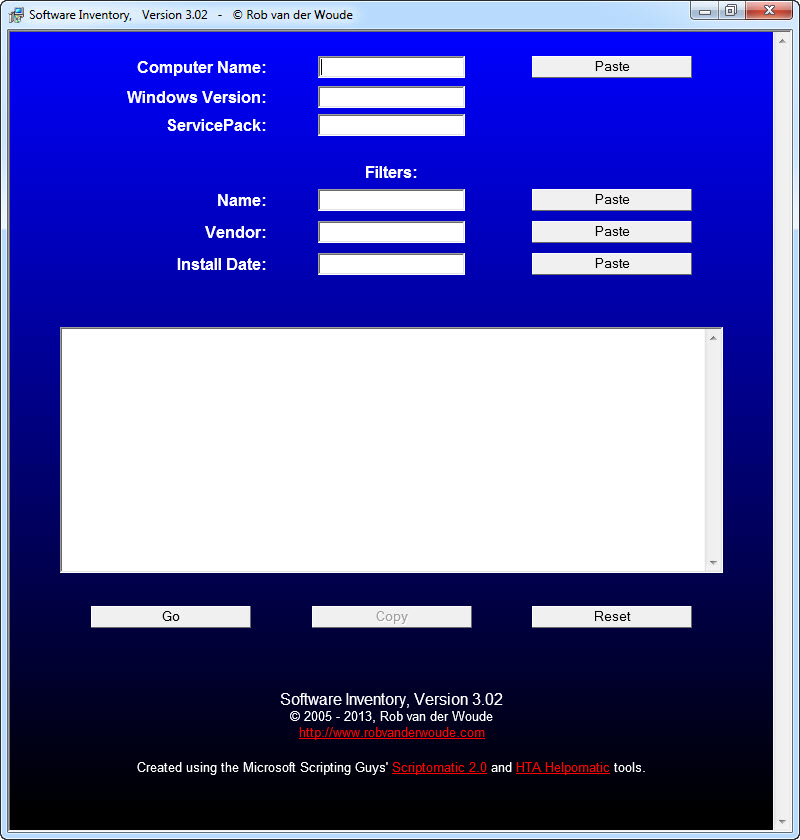 Usage:
Open the Basic Software Inventory tool by doubleclicking the file software.hta.
Fill in the name or IP address of a remote computer in the "Computer" field at the top of the screen. Or you can use the "Paste" button at the right of this field to paste the computer name from the clipboard. Or just leave the "Computer" field empty and use the default: the local computer.
If you only want a limited inventory, use the filter fields.
Filling in "Microsoft" in the "Vendor" field will limit the installed software list to Microsoft software only, filling in "Office" in the "Name" field will limit the list to software packages that have the word "Office" in their name.
The "Name" and "Vendor" filters are case insensitive.
The "Installed Date" field requires a date in YYYYMMDD format, between 19800101 and today, and will limit the output to software installed on that date or later.
The filtering uses an "AND" function, i.e. all filters settings must apply for a software package to match.
Leave a filter field empty if you don't want to filter for its property.
Click the "Go" button to start the inventory.
This may take a couple of seconds or sometimes even minutes.
The "Reset" button clears all fields, so the software will be ready for the next try.
If you want to save the results displayed, you can use the "Copy" button to copy the results to the clipboard in tab delimited format.
Open Notepad or any plain text editor, paste the contents from the clipboard and save the file as a *.csv file. Open this CSV file in your spreadsheet program or append it (without header) to an existing CSV file for future reference.
Hover your mouse pointer over any field or button to display a short help text in a tooltip.